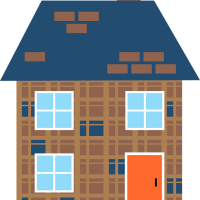 Buying a home is the single biggest purchase that most people will make in their lifetime.  Whilst buying and selling homes is going on every day of the week, some of those transactions are problematic resulting in stress and financial loss when things go wrong.
When you are buying a home, Hendersons Legal, Conveyancing Lawyers, has several tips to help you minimise the risks.
Legal due diligence of the paperwork.  Before you sign the contract, have the paperwork reviewed by a lawyer.  The median house price in Melbourne is $770,000.00.  Hendersons Legal will charge a fee of $330.00 to make sure that the paperwork is in order.  In the scheme of buying a home, a legal contract review is a minor but critical cost to minimising future problems with the conveyance.
Inspect the property.  You must check the property closely during an open for inspection.  You can look for borer; white ants; cracks; mould; water stains; dampness; crumbling grout; rotting weatherboards and the like. You can also assess the age of appliances including heating and cooling and the hot water system, and the longevity of outdoor landscaping such as decks and paving.  Also consider what sort of soil is in the area and why type of foundations the builder has constructed. For example, has the builder constructed a waffle slab which may prevent significant renovations?  You may decide to get a building report to answer any concerns that you may have.
Measure the property.  You must also measure the title boundaries against the certificate of title to make sure that the land is the right size.  For free standing properties, that means running a tape measure along all fences.  For owners corporation or multi-development properties, that means running a tape measure alongside the plaster walls of the external boundaries.
Arrange finance with proper approvals before signing a contract.  Having financial arrangements approved and in place with your lender prior to signing a contract is critical.  If you are buying at auction, there is no cooling off period. Therefore the contract becomes binding as soon as it is signed and you have unconditional obligations to pay the deposit and the balance  of the contract even if your finance fails.  You must be sure that your finance approval is binding on your financier.  If you cannot complete the contract, then you will lose your deposit as a minimum.
Check for building and renovation limitations.  If you plan to demolish; build a new home; or extend the existing home,  you must check with the local council to find out if there are any restrictions or planning approvals that might affect your plans.  Is the property subject to any heritage or vegetation overlays that may affect demolition and construction of a new home or renovation?  You must also check the title for any easements or covenants that could also restrict any proposed building works.   For example, there may be single dwelling covenants that prevent you from building two dwellings or their might be an easement for a water authority that may prevent you from building over that part of the property.
Buying at auction.  If you are buying a home at auction, you will be asked to sign the contract and pay the deposit at the conclusion of the auction.  Most homes bought by private sale will have a cooling off period of three business days from the date of signing.  This does not apply to auctions; to commercial property; to purchasers who are estate agents; or to companies if the property is more than 20 hectares.  You must therefore carry out the above checks before the auction and ensure that you have unconditional funds available to pay the deposit amount on auction day.  Once you sign the contract at auction, it is binding.  There are some limited circumstances where you may be able to get out of an auction contract once it is signed.  However this will inevitably involve a legal dispute with large legal costs, stress and no guaranteed outcome.
All of Hendersons Legal's conveyancing clients will enjoy the peace of mind of having experienced lawyers looking after their conveyancing transactions.  Our attention is focused on minimising our client's risks, stress and worries about buying or selling a home.  To help our clients, we have prepared a Guide for Vendors and Checklist for Purchasers which are on our website if you would like some more information as to how to go about buying or selling a home.
If you are thinking about or in the process of buying or selling a home, please call Hendersons Legal, Conveyancing Lawyers on 03 9629 2211 to speak to an experienced lawyer about your transaction.
This content is intended as commentary and should not be construed as legal advice.
For more information call David Henderson on 03 9629 2211.